Program of the Day
// 21.7.18
JOSEF NADJ & JOËLLE LÉANDRE



PENZUM
20 & 21.07.2018
Kalamata Dance Megaron - Studio | 20:00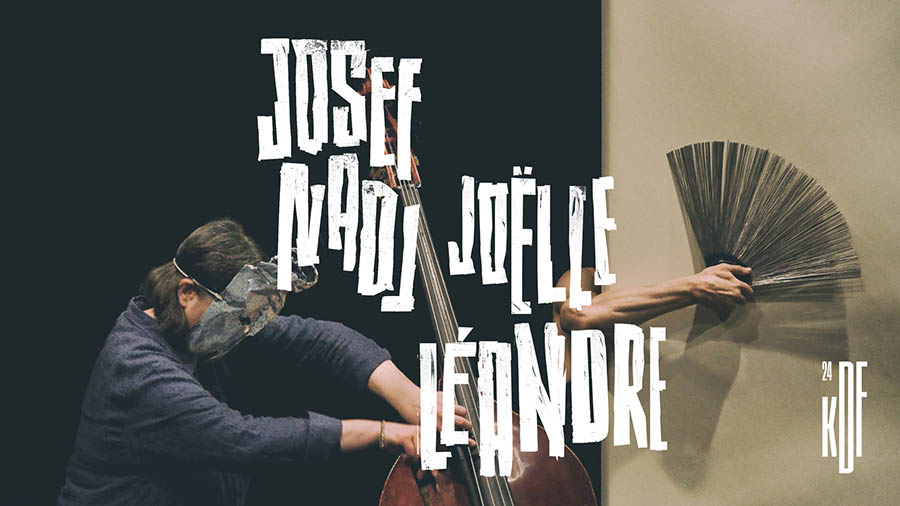 Penzum: the amount of work to be completed in one day and which one has to account for. This term appears in an untranslated poem by Attila József (1905-1937), the iconic Hungarian poet who influenced generations of writers and artists. Josef Nadj, choreographer, dancer and visual artist, and double-bass player and composer Joëlle Léandre, conceived Penzum as a tribute to the great poet. Both wearing masks, the two performers stage their duo in a mixture of choreography, music, drawing and free improvisation. It is an 'open' piece constantly written on the spot as a result of a total communion between the performers. It shows the work done to express the intensity of Attila József's words. His poetry never ceases to operate on the heart and mind of both performers. It guides them, inspires them.
(…) Soon I'll have to leave. I have to show myself that I am somebody except I don't exist.
Only others see me.
For now, I still have my neck.
The train has not cut it yet.
My tongue has not been cut either.
But who can I talk to…?
This is a fixed point.
Attila József, "Free ideas"
(raw translation by Josef Nadj)
Duration: 50΄
--
Conception-Performance: Josef Nadj & Joëlle Léandre
Lights-Technical Direction: Sylvain Blocquaux
Construction: Julien Fleureau
Mask: Jacqueline Bosson
Costumes: Aleksandra Pešić
Text: Attila József
Production-Touring: Bureau Platô | Céline Chouffot, Séverine Péan, Emilia Petrakis
Co-production: Centre chorégraphique national d'Orléans, Atelier 3+1
Atelier 3+1 / Josef Nadj receives the support of the French Ministry of Culture (DGCA).
With the support of:
--
French double bass player, improviser and composer, Joëlle Léandre is one of the dominant figures of the new European music. Trained in orchestral as well as contemporary music, she has played with L'Itinéraire, 2e2m and Pierre Boulez's Ensemble Intercontemporain. Joëlle Léandre has also worked with Merce Cunningham and with John Cage, who has composed especially for her – as have Scelsi, Fénelon, Hersant, Lacy, Campana, Jolas, Clementi and about 40 composers.
As well as working in contemporary music, Léandre has played with some of the great names in jazz and improvisation, such as Derek Bailey, Anthony Braxton, George Lewis, Evan Parker, Irene Schweizer, William Parker, Barre Phillips, Pascal Contet, Steve Lacy, Lauren Newton, Peter Kowald, Urs Leimgruber, Mat Maneri, Roy Campbell, Fred Frith, John Zorn, Mark Naussef, Marilyn Crispell, India Cooke and so many others…
She has written extensively for dance and theatre, and has staged a number of multidisciplinary performances. She got the DAAD at Berlin and is welcomed as artist resident at Villa Kujiyama (Kyoto). In 2002, 2004 and 2006, she was Visiting Professor at Mills College, Oakland, CA (Darius Milhaud Chair), for improvisation and composition. Her work as a composer and a performer, both in solo recitals and a part of ensembles, has put her under the lights of the most prestigious stages of Europe, the Americas and Asia. There are more than 150 recordings to her credit since she began recording in 1981.
Understanding dance above all as a site for encounter – this is how Josef Nadj defines his work.
Dancer, but also visual artist and photographer, Josef Nadj has a poetic and passionate vision of humanity. He is constantly in search of new forms and ceaselessly willing to explore humanity as close as possible to human truth.
Across his career, from Canard pékinois (1987) to Penzum (2017), Josef Nadj has relentlessly pursued exigent and passionate choreography where gravity and compassion take turns, where depth and humour alternate. Whether he is visiting atypical authors (Beckett, Kafka, Michaux) or bringing painting along on stage with him (in performance with Miquel Barceló), Josef Nadj flourishes in complete corporal freedom. Oscillating between reality and fantasy, tradition and modernity, he explores the essential: man's relationship with himself. Because for Nadj, dance is fundamentally a humanist act.
Over the years, the works of Josef Nadj have become references in contemporary dance. Beyond his national influence (Carte Blanche at the Grande Halle de La Villette in Paris, 2014; Associated Artist at the 2006 Avignon Festival that officially designated him as 'creator without borders'), his work is recognized and celebrated around the globe. Enthusiastically received in nearly 50 countries, more than 400,000 audience members across five continents have appreciated his works in the most important international venues.
Drawing his inspiration from the depths of the great myths of humanity, passionately intertwining both artistic disciplines and cultural references, Josef Nadj is elaborating a universal language.
From 1995 to 2016, Josef Nadj has been director of the Centre chorégraphique national d'Orléans. Since 2017, he has been living in Paris and working with his new company Atelier 3+1.
MARQUESE SCOTT & JOHN POPPIN
21.07.2018
Kalamata Dance Megaron - Main Stage | 22:00
Marquese Scott and Poppin John might need no introductions since their YouTube videos have millions of views. They are two of the most significant figures of animation and poppin dance in the world. Self-taught, pioneer and groundbreaking, they are a huge influence for millions of young people while they have changed our perspective on human motion and contemporary dance.
The duo from the US, with the extraordinary moves, visit Greece for the very first time to give a performance in the Main Stage of Kalamata Dance Megaron and an outdoor performance as well, showing people the richness and original expression of the street and freestyle dance culture that has been shaking cities for decades all over the world. Marquese Scott's and Poppin John's presence in the Festival is a small tribute to the magicians of contemporary dance.
Duration: 50΄
--
Concept-Choreography: Marquese Scott & Poppin John
Production Manager: Aris Golemi
--
Marquese Scott (born in 1981) is an American animation dancer who initially was a popping dancer. His work has been seen in music videos that he creates, TV shows, advertisements, and live performances at award shows. Marquese was first exposed to dancing when he noticed a dance contest at his local roller skating rink. He began to take dancing seriously while in high school in Indianapolis, Indiana, joining friends in a school dance club. In 2003, he moved to Atlanta, Georgia and it is there where he met other dancers and learned the technique of animations, and began uploading YouTube videos of himself dancing in public places. Marquese's 53rd YouTube upload, a video of himself dancing to a Butch Clancy remix of Foster the People's 'Pumped Up Kicks' in 2011 is what propelled Marquese Scott to stardom. The video went viral, gaining 1.5 million views in four days, and currently has over 133 million views.
Poppin John, American poppin dancer, was born in 1986, grew up in Farmington, New Mexico and the first time he seriously thought about learning how to dance was at the age of 11 at a family reunion in Colorado. At adolescence he started a crew with his friends to enter competitions and ever since, having been shaped through endless practice and battles, he has evolved into an internationally famous top dancer at poppin, animation and dubstep. A few years ago he launched his website learn2boost which has made him the teacher of thousands of online students around the world.
JUSTINE BERTHILLOT & FRÉDÉRI VERNIER

NOOS
21.07.2018
Kalamata Central Square | 19:00
Justine and Frédéri are on tour appearing in front of audiences all over the world. People are just dumbfounded realizing what total trust can really mean, while Justine and Frédéri are running, giving hugs, falling and rising again by alternating delicacy and brutality in a breathtaking way.
--
Direction, choreography, performance: Justine Berthillot, Frédéri Vernier
Outside Eye: Julie Beres, Samuel LeFeuvre
Sound Design: Antoine Herniotte
Light Design: Aby Mathieu
Costumes: Emmanuelle Grobet
Production: Le Monfort théâtre-Paris
Co-production: Le Centre National de la Danse-Pantin, La Passerelle- Gap
With the support of: Centre National de Arts du Cirque-Châlons en Champagne, Pôle cirque de la Brèche –Cherbourg, Pôle cirque de la Cascade-Bourg-saint-Andéol, Le Klap-Marseille
With the support of:
--
Justine Berthillot and Frédéri Vernier are acrobats.
They share a strong educational background in gymnastics, acrobatics and cicrus perfromance which they aquired from a very young age. In 2009 they formed their duo in the National School of Circus Arts of Rosny-sous-Bois, France and then they acceded in the National Centre for Circus Arts. All these years they develop their technique by listening to one another, studying human nature through physical contact and by aiming to originality in their artistic expression.
Their performance Noos (2011) with which they tour the world, reflects their study on the relation with the Other.
* 22.7 | 19:00 | COSTA NAVARINO
13 → 22.07
PHOTO ΕΧΗΙΒΙΤΙΟΝ
JOSEF NADJ Inhancutilitatem
10:00-13:00 & 19:00-22:00
13.7.2018 | Opening | 21:00
Kalamata Dance Megaron Lobby
With his series called Inhancutilitatem, Josef Nadj gets back to the cyanotype, this ancestor of photography, in a move that is like a return to the roots. A joyful pantheistic celebration, a game with the states of matter – combining fibers, lines and patterns; searching for new forms of life. One can also make out a 'rite of passage' in this deep and almost mystical blue, evoking new skies between Cyan and Prussian blue.
A swallow place where the movement of existence creates, as well for the hunter gatherer as for the spectator, a compelling object of meditation.
To this end the merciful angels often proposed and invented figures, characters, forms and unknown words from us mortals, and wonderful and meaningless according to the usual practices of the language, but inducing us through the highest admiration our reason, a diligent search of intelligible things, then the veneration and love of these things (Johannes Reuchlin, De Arte Cabalistica, Hagenhau, 1517, III).
With the support of:
PETER JASKO
13 → 22.07.2018
Kalamata Municipal Stadium
This is more of a creativity and artistic self-awareness class rather than merely a dance class. Because of its nature, it is an open level class for professional dancers and movers alike. The class begins with the exploration of ways to overcome self-judgment and self-limitations. After waking up the whole body, we will delve into exercises to empower our focus. We will explore the area between power and fragility. We will move with the intention of never going back, developing our fearlessness and ability to trust each instant's potential to lead us to new grounds. We will give ourselves the necessary time to tune into our body's intuitive intelligence to solve movement paradoxes.
These simple materials are technical tools and also tools for composition. We encourage the dancer to playfully explore their personal language and inner creative processes that result both from everyday lived experience and learned movement patterns. By opening up to creative curiosity, we will work on enhancing our movement fluency. Also, we will develop strategies to explore the space between continuity and disruption of movement ideas by naming patterns for those interested in building choreographies.
Peter Jasko was born in 1982 in Liptovsky Mikulas, Slovakia. He is a dancer, choreographer and teacher as well as co-founder of the Les SlovaKs dance collective. He took his first dance classes at the folk dance company Dumbier Slovakia, where he spent eleven years. From 1996 to 2001, Peter studied and graduated from the Conservatory J.L.Bella of dance, Banska Bystrica, Slovakia.
He continued his highier education at the University of Music and Dramatic Arts in Bratislava before entering at the international school of dance P.A.R.T.S. in Brussels (2002), under the direction of Anne Teresa de Keersmaeker. His professional experience ranges from dancing with different international artists and companies such as Zuzana Hajkova, Opera Banska Bystrica, ASpO, Company Roberto Olivan, OXOXOX - Juri Konjar, G. Barberio Corsetti & Fattou Traore, Company Sidi Larbi Cherkaoui. He collaborated with David Zambrano as a performer, and also as an assistant for his classes and workshops. His teaching experience started in 2002 and at the moment he is teaching in many dance studios, dance and circus schools and companies in Belgium, Slovakia, Holland, Norway, Spain, Slovenia, Switzerland, Austria, New York.
EDIVALDO ERNESTO
15 → 21.7.2018
Kalamata Municipal Stadium
This is an intense and dense group dynamic class.
It is about energy, about constantly challenging our limits. Understanding what defines us as dancers and pushing those boundaries over and over again. Allowing the environment to influence our dancing skills, refining tools to create new movement qualities and new rhythms. Digging deeper inside the range of our own personal dance vocabulary, becoming anyone or anything.
Working with partnering, multi-directional micro-narrative movement to transforming as a whole group. Learning how to effectively be unpredictable, how to recycle energy, how to use the body as our primary tool. This is a new process of study in which the teacher offers such guidance throughout the whole learning process so that students fully digest the work done to get to a completely new level.
--
Edivaldo Ernesto (Mozambique) is an improvisation expert, teacher and choreographer. He began to dance in 1997 Mozambican traditional dances and after attending seminars of contemporary dance he formed as a gifted dancer, teacher and choreographer. For a period of 14 years he worked with David Zambrano in duet improvisations and other performances and touring across the world. He collaborated with Sasha Waltz and Guests Company from 2007 until 2014.
Since 2012 he also developed various collaborative projects with famous artists such as Judith Sánchez Ruíz and the film composer Hauschka. In 2018 he collaborated with Linda Kapetanea in the duet Half-the-Thruth for Rootlessroot.
He has presented his work at Bouge B, deSingel Festival in Antwerp; Tanzfestival in Kulturzentrum Tempel, in Karlsruhe; Gdansk Dance Festival Poland; Radialsystem in Berlin; Exit Festival, Paris, with German Pianist and film composer Hauschka; FEC (Fundación Espacio Creativo), Panama City; Dresdener Musikfestspiel.
Since 2012 Edivaldo Ernesto has focused in the investigation and development of his own techniques: 'Depth Movement' and 'Next Level' giving workshops all over the world.