Program of the Day
// 19.7.18
JUKSTAPOZ COMPANY / CHRISTINE GOUZELIS & PAUL BLACKMAN



THE ART OF DYING
19.07.2018
Kalamata Dance Megaron - Studio | 21:00
Founded in 2010, the Athens-based Jukstapoz Company has performed at festivals and theatres around the world. The group's choreographic style is strikingly cinematic and borrows from physical theatre.
The Art of Dying, a solo piece inspired by Hieronymus Bosch's The Garden of Earthly Delights, conveys the fragility of human existence through subtle humour and surrealism. Dance, visual imagery and ephemeral music will convey the transient beauty of that final moment before life comes to an end.
The performance examines the procedures of 'dying well'. Within a garden where both decay and life reside, the protagonist builds a landscape full of microcosms of both joy and corruption.
Dutch minimalist musician and New York-based Jozef Van Wissem – who has won the Soundtrack Award at the Cannes Film Festival for Jim Jarmusch film Only Lovers Left Alive – has composed original music for the piece.
Duration: 50΄
--
Choreography: Christine Gouzelis & Paul Blackman (Jukstapoz)
Performing: Christine Gouzelis
Music: Jozef Van Wissem μastroKristo - Chris Parapagidis
Costumes: Angeliki Tsirou
Sound Design: Jeph Vanger
Lighting: Perikles Mathiellis
Scenographer: Dimitris Nasiakos
Assistant Choreographer: Maria Doulgeri
Production Assistant: Marilena Dara, Christos Xyrafakis
Creative Producer: Lena John Gomez / Delta Pi
Funded by: The Hellenic Ministry of Culture and Sports
Co-produced by:
--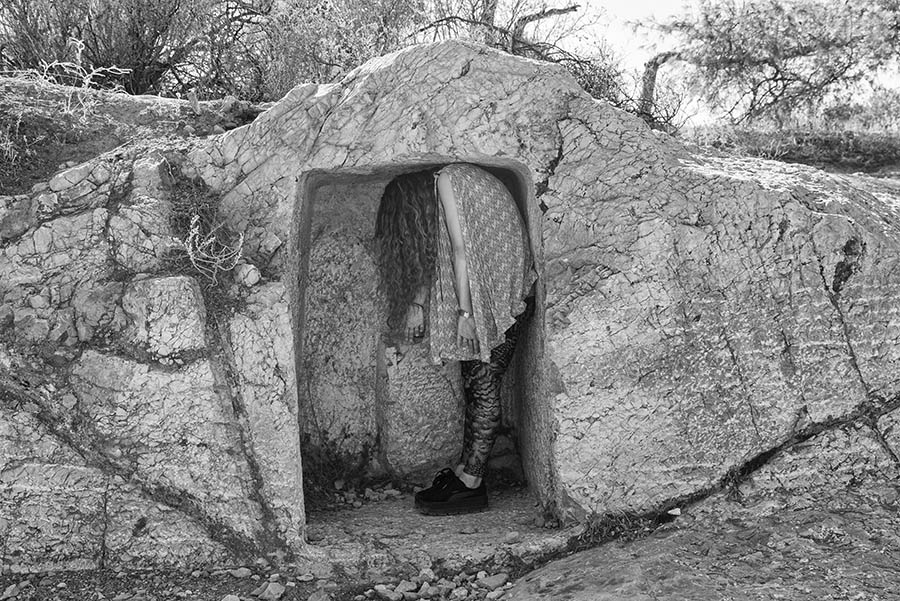 Jukstapoz Company was founded by Christine Gouzelis and Paul Blackman in 2010. The Athens based couple collaborate, tour and teach in several international platforms, educational and cultural institutions in Europe, Asia and Australia.
An acclaimed dancer, Christine Gouzelis has performed under top choreographers including Jasmin Vardimon, Wim Vandekeybus, Anton Lachky, RootlessRoot, David Zambrano, Pascal Rioult and others. Was awarded the DanceWEB scholarship in 2004 and received a full scholarship for the 50 Days project in Costa Rica 2010. She is a teaching member of the State School of Dance in Greece. In the last few of years, she was an Artist-in-Residence in Hong-Kong's Dance Academy and she was nominated for Best Choreography and Best Ensemble in Hong Kong Dance Awards for Hong Kong's Dance Academy production Fragile Matter.
TOM WEKSLER

WATER
19.07.2018
Kalamata Central Square | 19:00
Water is the blood of the earth and flows through its veins.
It comes forth in metal and stone and is concentrated in living creatures.
--
Artistic Advisory: Roser Tutusaus
With the support of:
--
Tom Weksler (Israel) is a dancer and acrobat. He has been practicing martial arts and different forms of acrobatic disciplines from a young age. He graduated from The Workshop for Dancers and Choreographers in Haifa in 2009. During the period 2010-2014 he collaborated with Inbal Pinto and Avshallom Pollak Dance Company and performed with the company's productions in many theatres and festivals around the world. He is currently performing around the world the awarded performance Collective Loss Of Memory - choreographed by Rootlessroot (Jozef Frucek and Linda Kapetanea) and produced by Dot504. Since 2017 Tom has been dancing with Guy Nader and Maria Campose Dance Company in Barcelona.
As a creator, Tom's interest is in slow process and long-time collaborations. In 2013 Tom has created Lobos in collaboration with circus artists Yogi Dekel, Breno Caetano and Yuval Oz, and supported by the Israeli Ministry of Culture.
From 2014-2017 Tom has collaborated with Tokyo based dancer and choreographer Mayumu Minakawa and created the Duets SARU and Heder with the support of La Manufacture / Campus chorégraphique of Aurillac in France and 'Machol Shalem' Dance Center in Jerusalem, Israel.
Tom is currently in a process of continuing his creations on top of the base ground of 'Movement Archery', Tom's artistic methodology and philosophy, which provides workshops, seminars and artistic development programs around the world.
13 → 22.07
PHOTO ΕΧΗΙΒΙΤΙΟΝ
JOSEF NADJ Inhancutilitatem
10:00-13:00 & 19:00-22:00
13.7.2018 | Opening | 21:00
Kalamata Dance Megaron Lobby
With his series called Inhancutilitatem, Josef Nadj gets back to the cyanotype, this ancestor of photography, in a move that is like a return to the roots. A joyful pantheistic celebration, a game with the states of matter – combining fibers, lines and patterns; searching for new forms of life. One can also make out a 'rite of passage' in this deep and almost mystical blue, evoking new skies between Cyan and Prussian blue.
A swallow place where the movement of existence creates, as well for the hunter gatherer as for the spectator, a compelling object of meditation.
To this end the merciful angels often proposed and invented figures, characters, forms and unknown words from us mortals, and wonderful and meaningless according to the usual practices of the language, but inducing us through the highest admiration our reason, a diligent search of intelligible things, then the veneration and love of these things (Johannes Reuchlin, De Arte Cabalistica, Hagenhau, 1517, III).
With the support of:
EL VIOLIN LATINO MEETS YUMARYA
International Kalamata Music Days
19.07.2018 | 22:00
Kalamata Dance Megaron Forecourt
A latin jazz session with El Violin Latino the band of the multi-awarded, world famous violinist and composer Gregor Huebner and the singer Yumarya share the temperamental, melancholic, sentimental, passionate melodies from South America in the musical language of Latin America – comprehensibly for anyone with a heart.
In co-production with the Municipal Conservatory of Kalamata – International Kalamata Music Days
–
Gregor Huebner (violin)
Klaus Mueller (piano)
Veit Huebner (bass)
Jerome Goldschmidt (percussion) Yumarya (vocals)
-
Gregor Huebner is an award-winning, Grammy-nominated composer and violinist, celebrated by audiences and critics alike for his visionary work across genres. His music has been described by The New York City Jazz Record as "challenging and vivid… seamlessly incorporating chamber elements with Avant Garde Jazz", while All About Jazz describes him as "a virtuoso with broad experience in large and small classical ensembles." Huebner's recent El Violin Latino, an album exploring the role of the violin in traditional Latin American music.
Huebner was born in Stuttgart, Germany, and is based in the Harlem neighborhood of New York City. He received his formal education from the Vienna College of Music, the Stuttgart College of Music, and the Manhattan School of Music, where he earned his master's degree and was recognized with a 'President's Award.' He has collaborated as a composer and performer with the most prestigious music festivals, concert halls and orchestras in the world. As a seasoned educator, Huebner has given workshops and masterclasses on performance, composition and improvisation with esteemed institutions. He has performed and recorded with some of the most respected names in jazz and pop, including Smokey Robinson, Diane Reeves, Billy Hart, Randy Becker, Joe Zawinul and John Patitucci.
PETER JASKO
13 → 22.07.2018
Kalamata Municipal Stadium
This is more of a creativity and artistic self-awareness class rather than merely a dance class. Because of its nature, it is an open level class for professional dancers and movers alike. The class begins with the exploration of ways to overcome self-judgment and self-limitations. After waking up the whole body, we will delve into exercises to empower our focus. We will explore the area between power and fragility. We will move with the intention of never going back, developing our fearlessness and ability to trust each instant's potential to lead us to new grounds. We will give ourselves the necessary time to tune into our body's intuitive intelligence to solve movement paradoxes.
These simple materials are technical tools and also tools for composition. We encourage the dancer to playfully explore their personal language and inner creative processes that result both from everyday lived experience and learned movement patterns. By opening up to creative curiosity, we will work on enhancing our movement fluency. Also, we will develop strategies to explore the space between continuity and disruption of movement ideas by naming patterns for those interested in building choreographies.
Peter Jasko was born in 1982 in Liptovsky Mikulas, Slovakia. He is a dancer, choreographer and teacher as well as co-founder of the Les SlovaKs dance collective. He took his first dance classes at the folk dance company Dumbier Slovakia, where he spent eleven years. From 1996 to 2001, Peter studied and graduated from the Conservatory J.L.Bella of dance, Banska Bystrica, Slovakia.
He continued his highier education at the University of Music and Dramatic Arts in Bratislava before entering at the international school of dance P.A.R.T.S. in Brussels (2002), under the direction of Anne Teresa de Keersmaeker. His professional experience ranges from dancing with different international artists and companies such as Zuzana Hajkova, Opera Banska Bystrica, ASpO, Company Roberto Olivan, OXOXOX - Juri Konjar, G. Barberio Corsetti & Fattou Traore, Company Sidi Larbi Cherkaoui. He collaborated with David Zambrano as a performer, and also as an assistant for his classes and workshops. His teaching experience started in 2002 and at the moment he is teaching in many dance studios, dance and circus schools and companies in Belgium, Slovakia, Holland, Norway, Spain, Slovenia, Switzerland, Austria, New York.
EDIVALDO ERNESTO
15 → 21.7.2018
Kalamata Municipal Stadium
This is an intense and dense group dynamic class.
It is about energy, about constantly challenging our limits. Understanding what defines us as dancers and pushing those boundaries over and over again. Allowing the environment to influence our dancing skills, refining tools to create new movement qualities and new rhythms. Digging deeper inside the range of our own personal dance vocabulary, becoming anyone or anything.
Working with partnering, multi-directional micro-narrative movement to transforming as a whole group. Learning how to effectively be unpredictable, how to recycle energy, how to use the body as our primary tool. This is a new process of study in which the teacher offers such guidance throughout the whole learning process so that students fully digest the work done to get to a completely new level.
--
Edivaldo Ernesto (Mozambique) is an improvisation expert, teacher and choreographer. He began to dance in 1997 Mozambican traditional dances and after attending seminars of contemporary dance he formed as a gifted dancer, teacher and choreographer. For a period of 14 years he worked with David Zambrano in duet improvisations and other performances and touring across the world. He collaborated with Sasha Waltz and Guests Company from 2007 until 2014.
Since 2012 he also developed various collaborative projects with famous artists such as Judith Sánchez Ruíz and the film composer Hauschka. In 2018 he collaborated with Linda Kapetanea in the duet Half-the-Thruth for Rootlessroot.
He has presented his work at Bouge B, deSingel Festival in Antwerp; Tanzfestival in Kulturzentrum Tempel, in Karlsruhe; Gdansk Dance Festival Poland; Radialsystem in Berlin; Exit Festival, Paris, with German Pianist and film composer Hauschka; FEC (Fundación Espacio Creativo), Panama City; Dresdener Musikfestspiel.
Since 2012 Edivaldo Ernesto has focused in the investigation and development of his own techniques: 'Depth Movement' and 'Next Level' giving workshops all over the world.
DANCING MY WAY
16 → 20.07.2018
'THΕODOROS AΝGELOPOULOS' AMPHITHEATRE
Dance Workshop for People with Disabilities
Project Director: Sofia F. Droumpali
Lecturers: Sue Curtis, Juliet Diener, Sofia F. Droumpali
Τhe project "Dancing My Way" is focused on the therapeutic
and inclusive aspect of dance for people with disabilities.
Sofia F. Droumpali designed and directs the project aiming to inspire, educate and provide a first solid ground about the idea of making a contemporary dancing space for people with disabilities in her hometown Kalamata, through an international scientific and therapeutic approach that this field requires. The art video that will be created will bring in the surface the whole process of the "Dancing My Way" project which is conducted by PHARIS (Kalamata International Dance Festival - Kalamata Municipal Dance School) in collaboration with the Centre of Physical Medicine and Rehabilitation of Kalamata.
Juliet Diener, 16.7.2018
icandance: making dance accessible for all.
icandance is an approach developed By Juliet Diener which believes in the power of dance and its ability to support wellbeing for those living with disabilities. Juliet believes that dance can be used to nurture positive relationships, build confidence and encourage creative expression in those with disabilities. The workshops will offer professionals, families and individuals with disabilities the opportunity to understand and experience this approach.
Open training: 10:00 – 11:00 and two closed workshops for people with disabilities and their carers: 11:30 – 12:20, 13:.00 - 13:50
Sue Curtis, 17.7.2018
Entering the Sensory Landscape: Creative workshops for parents, carers and professionals.
Do we hear only with our ears, see only with our eyes? How can the language of the body contribute to our understanding and making sense of relationships? Can we enter a sensory landscape in order to meet children and young people with learning difficulties and physical impairments with an openness to feel, sense and be alongside?
Open lecture: 10:00 – 11:00 and two open workshops: 11:30 – 12:30, 13:00 - 14:00
Sofia F. Droumpali, 18-20.7.2018
Creating a special dancing space for people with disabilities in Kalamata.
The therapeutic and inclusive dancing sessions for people with disabilities and their carers focus on the dynamic development of 3 closed groups that started in Kalamata in March. The interpersonal bodily communication between disabled and non- disabled people and the sense of belonging to a dancing community that makes alive the individual identities of people with disabilities are explored. The themes of the sessions are: 'Watch me', 'Relieving the distance', 'Tracing My Dance'.
Three daily closed dancing workshops for people with disabilities: 10:00 – 10:50, 11:30 -12:20, 13:00 -13:50
Sue Curtis Bed, MA (DMT), RDMP, Supervisor, Lecturer, Teacher, Dancer
Sue trained as a dancer and teacher, practicing as a therapist with children and young people within mainstream and special education. She has lectured and supervised on MA DMP training courses since 1993 (currently at Goldsmiths), supervises privately and been engaged in the work of the Association for DMP UK. She has been a guest lecture in Barcelona, Ukraine, Poland and Latvia. Sue lived through 3 years of cancer treatment, leaving her disabled, but giving rise to exploring 'body mapping' as a way of the body telling its' story and is currently developing this within supervision.
Juliet Diener, MA (DMP), RDMP, HDE Dance Movement Psychotherapist Principal, Lecturer, Teacher, Dancer.
Juliet is a qualified Dance Movement Psychotherapist, Special Educational Needs teacher and Ballet teacher. Juliet's belief in the power of dance and its ability to give those with disabilities a voice motivated her to create icandance, a charity which offers dance and performance opportunities to children and young people aged 4 to 25 years old with varying learning, physical and social/emotional difficulties. The charity is based in London and offers a creative, therapeutic community for dancers and their families. Visit www.icandance.org.uk. Juliet also lectures and supervises at Goldsmiths University.
Sofia F. Droumpali, MA (DMP), ADMP, Dance Performer, Dance Teacher, Teacher
Sofia firstly educated in contemporary dance and ballet studying in the Pre-Professional classes of Pharis, in her hometown, Kalamata. She graduated from the Professional Dance School 'Rallou Manou' and from the Department of Primary Education at University of Patra. Sofia's experience as dance teacher for traumatised children in Athens led her study Dance Movement Psychotherapy (MA) at Goldsmiths University of London. Since 2015, she has been working in London as Dance Movement Psychotherapist and Teacher of Therapeutic Dance with people with disabilities, Mental Health difficulties and refugees. Her dancing dialogues with disabled people in Kalamata's previous Dance Festival motivated her to design and actualise the project 'Dancing My Way'.